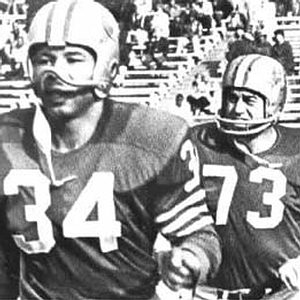 Seventh-rounder Larry Grant officially finalized a contract this week and will report to training camp on time in his quest to secure the starting "mike" linebacker spot.
I thought I'd start a section on here called "Digging for Gold." The section will be ongoing, running a couple times per week. I might give it a more orderly time per week once the season begins. The premise behind this section is to highlight trivia-based information from the rich history of the 49ers. It could be a mind-boggling stat, an interesting story about an ex-49er or some other type of quirky nugget of information which might interest any 49ers fan. I call it "Digging for Gold" since, well, that's what I'm doing. More to the point, a 49er is a term used to describe the gold prospectors who flocked to the Bay Area-portion of California in the mid-19th century.
Anyway, shall we start "Digging for Gold" today? We shall:
The franchise-leader in career rushing yards is Joe Perry, who played for the 49ers from 1950-1960 and 1963. Perry, who went to college at Compton CC in Los Angeles, rushed for 7,344 yards and 50 touchdowns (tied with Roger Craig for the franchise rushing record) on 1,475 carries. Perry was a three-time Pro Bowler (1952-54), was named the UPI NFL MVP in 1954 and he was named to the NFL 1950s All-Decade Team.
49ers Gab Newsletter
Sign up to receive our 49ers Gab newsletter, and keep up to date with all the latest San Francisco 49ers news.